Welcome to the Chadstone Development Discussion Forums, the place for Chadstone residents to discuss and share photos, opinions and comments regarding the expansion of Chadstone Shopping Centre and the redevelopment of the Middle Road area connecting Warrigal Road to the Centre. Chadstone, "Chaddy", is a shopping centre located in Victoria, Australia.
Discuss anything related to the Chadstone roadworks, new carparks, noise, dust, traffic, etc. We also have the
largest collection of photographs
taken during the various stages of construction and new redevelopment of Chadstone Shopping Centre and surrounding roads.
---
This site is not affiliated with Chadstone Shopping Centre, Colonial First State Property Management or the Gandel Group (the Centre owner).
---
Latest Discussion Topics
---
There is no need to register for an account - you can post anonymously if you wish. No personal information is collected. However if you wish to maintain an online profile, edit your recent posts, and have no restrictions on posting in the forums, you can
register
for an account.
---
About the official Chadstone Shopping Centre Updates
All images of the Chadstone Development Update (Project News) newsletters have been reproduced here as a courtesy to our readers. They are not in any way intended to infringe on copyright. The reproduction of such articles as part of a imformative site consitutes to fair use. The articles here are nonetheless in the public domain, as they have been mass-distributed to many residents.
---
Featured images




---
Latest images





News
Chadstone Shopping Christmas Hours 2013 - Xmas Extended Trading Hours
Mon, 25 Nov 2013 12:02 am
By
Admin
Below are the extended trading hours for the 2013 Christmas and New Year 2014 trading period, as released by Chadstone shopping Centre.
This year, the 34-hour Christmas trading period falls on Monday and Tuesday. It starts at 8am Monday and ends at 6pm on Tuesday.
Chadstone Opening Hours - Christmas 2013 timetable
Mon
Tues
Wed
Thur
Fri
Sat
Sun
Dec 1
10am-5pm
2
9am-5:30pm
3
9am-5:30pm
4
9am-5:30pm
5
9am-9pm
6
9am-9pm
7
9am-7pm
8
9am-7pm
9
9am-7pm
10
9am-7pm
11
9am-7pm
12
9am-9pm
13
9am-9pm
14
8am-9pm
15
8am-9pm
16
8am-9pm
17
8am-9pm
18
8am-9pm
19
8am-Midnight
20
8am-Midnight
21
8am-Midnight
Dec 22
8am-Midnight
23
34 Hour Trade
8am
24
34 Hour Trade
Christmas Eve
6pm
25
Closed
Christmas Day
26
7am-10pm
Boxing day
27
9am-9pm
28
9am-6pm
29
10am-6pm
30
9am-5:30pm
31 Dec
9am-6pm
New Years Eve
Jan 1
10am-6pm
News Years Day
2
9am-9pm
3
9am-9pm
4
9am-6pm
5
10am-5pm
Source: Official December 2013 timetable from ChadstoneShopping.com.au
Note:
Not all shops and stores adhere to this special timetable. The timetable only applies to the Shopping Centre in general. Individual stores may have different trading hours.
---
Chadstone New Years Eve Hours: 9am-6pm, Open on New Years Day 2013
Thu, 27 Dec 2012 05:07 pm
By
Admin
Like previous years, Chadstone Shopping will be open on New Years Eve and New Years Day 2013.
Normal trading hours resume afterwards.
Chadstone Opening Hours - New Years Eve / Day 2013 Timetable
Mon
Tues
Wed
Thur
Fri
Sat
Sun
31 Dec
9am-6pm
New Years Eve
Jan 1
10am-6pm
News Years Day
2
9am-5:30pm
3
9am-9pm
4
9am-9pm
5
9am-6pm
6
10am-5pm
A few hours left before Chadstone Closes on Boxing Day 2012
Wed, 26 Dec 2012 04:31 pm
By
Admin





Shoppers have been scrambling to find the best bargains during Chadstone's Boxing Day Sale. Many great deals are on offer, with some retailers offering up to 60% off. Some stores were so popular that they required queueing at their entrance and a security guard to prevent overcrowding in the store and also possible theft.
Like Christmas Eve, Boxing Day was as hectic as ever, with queues on Middle Rd stretching all the way out to Monash Freeway.
The Centre generally
closes at 10pm tonight (Boxing Day)
, although Myer and David Jones will continue their Boxing Day trading until midnight.
In Victoria, shoppers are expected to spend over $588m on Boxing Day. Consumer Affairs Minister Michael O'Brian has reminded everyone that retailers with a 'No Refunds' policy on sale items may be illegal. Consumer law applies equally for items bought at their normal price as well as when 'on sale'. Consumers retain their right to a refund or exchange if goods they purchase are faulty, defective or not as described. Individual stores or shops have the discretion on whether they will issue refunds or exchanges for 'change of mind' purchases.
Boxing Day Parking at Holmesglen TAFE
Wed, 26 Dec 2012 10:37 am
By
Admin

Chadstone Shopping in conjunction with Holmesglen TAFE have organised off-site parking for shoppers.
Shoppers can park at the TAFE located on Waverley Rd (enter via Golfers Drive). A regular shuttle bus will take shoppers to the Centre via Chadstone Rd. With over 400 carparking spaces, it is a good alternative to hunting down a space at the crowded Centre carparks.
For those shoppers who insist on parking at the shopping centre, the Centre advises shoppers to utilise the top level (rooftop) car parks for ease of parking. This is because motorists prefer not to park in the open with the sun beating down on their cars.
ChadstoneShopping Website Crashes: Overwhelming number of visits
Wed, 26 Dec 2012 09:28 am
By
Admin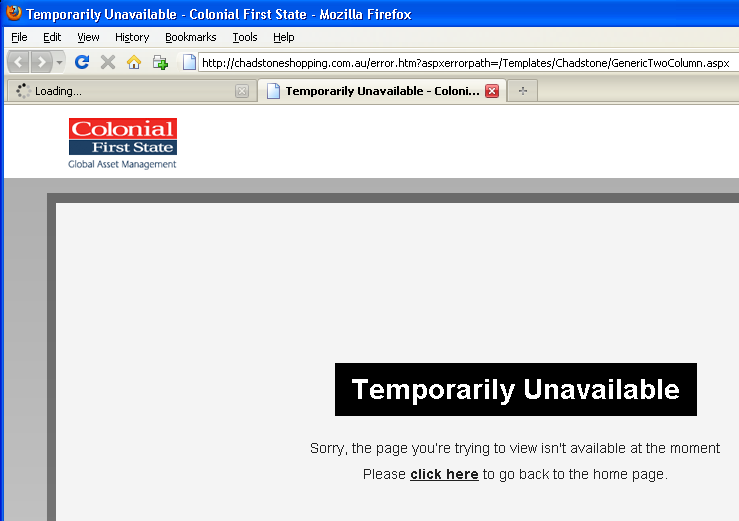 Early this Boxing Day 2012, the Chadstone Shopping Centre website crashed. Instead of the usual website, customers were greeted by a "Temporarily Unavailable" message after a long wait. It could not have come at a worse time, especially when customers are using the site to check for Boxing Day trading hours before making the trip. The sheer amount of web traffic has brought the website down to its knees.
On the physical front, vehicle traffic is also building rapidly. Traffic Jams are now spreading out from the Centre, with long queues on Warrigal Rd.
As a courtesy to shoppers, we have the
2012 Boxing Day Hours
available here.
---