Welcome to the Chadstone Development Discussion Forums, the place for Chadstone residents to discuss and share photos, opinions and comments regarding the expansion of Chadstone Shopping Centre and the redevelopment of the Middle Road area connecting Warrigal Road to the Centre. Chadstone, "Chaddy", is a shopping centre located in Victoria, Australia.
Discuss anything related to the Chadstone roadworks, new carparks, noise, dust, traffic, etc. We also have the
largest collection of photographs
taken during the various stages of construction and new redevelopment of Chadstone Shopping Centre and surrounding roads.
---
This site is not affiliated with Chadstone Shopping Centre, Colonial First State Property Management or the Gandel Group (the Centre owner).
---
Latest Discussion Topics
---
There is no need to register for an account - you can post anonymously if you wish. No personal information is collected. However if you wish to maintain an online profile, edit your recent posts, and have no restrictions on posting in the forums, you can
register
for an account.
---
About the official Chadstone Shopping Centre Updates
All images of the Chadstone Development Update (Project News) newsletters have been reproduced here as a courtesy to our readers. They are not in any way intended to infringe on copyright. The reproduction of such articles as part of a imformative site consitutes to fair use. The articles here are nonetheless in the public domain, as they have been mass-distributed to many residents.
---
Featured images




---
Latest images



News
First stage of Chadstone's $600m revamp completed
Wed, 29 Jul 2015 12:00 am
By
Admin
The new bus interchange that was under construction for the past few months has been unveiled today.
Originally slated for a 'Late 2015' opening, it was completed at the end of July 2015, ahead of schedule.
Centre Manager Anthony Rafaniello said the Centre needed to accommodate the demands of commuter-shoppers. He said "PTV thinks it will be the fifth busiest bus interchange in Victoria".
"But I think over time, more and more people will come by public transport. And it just makes [Chadstone] accessible from anywhere in Melbourne. The buses actually go as far as Altona, Box Hill. It just totally connects us."
---
.
Sat, 18 Jul 2015 12:00 am
By
Admin
Bus Interchange construction begins, carparking spaces reduced
Mon, 16 Mar 2015 12:00 am
By
Admin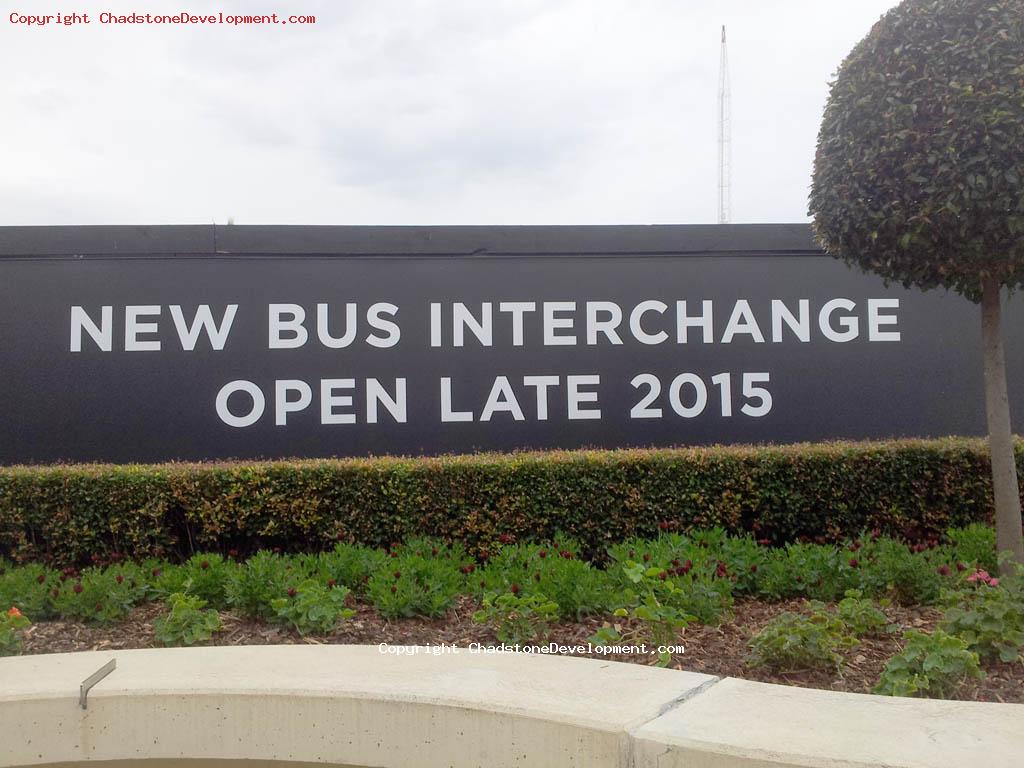 Sections of the Myer/Woolworths carpark have been fenced off as construction begins on a new bus interchange.
Chadstone Shopping has traditionally been served with bus stops outside the Coles entrance, however this has reached capacity, particularly at peak times. Delays are made worse by the pedestrian crossing between the Coles carpark and centre entrance. The new bus interchange will be a dedicated facility, unimpeded by pedestrian traffic.
The interchange is planned to open in 'Late 2015'.
Until then, above-ground carparking between Woolworths and Myer will be drastically reduced whilst construction takes place.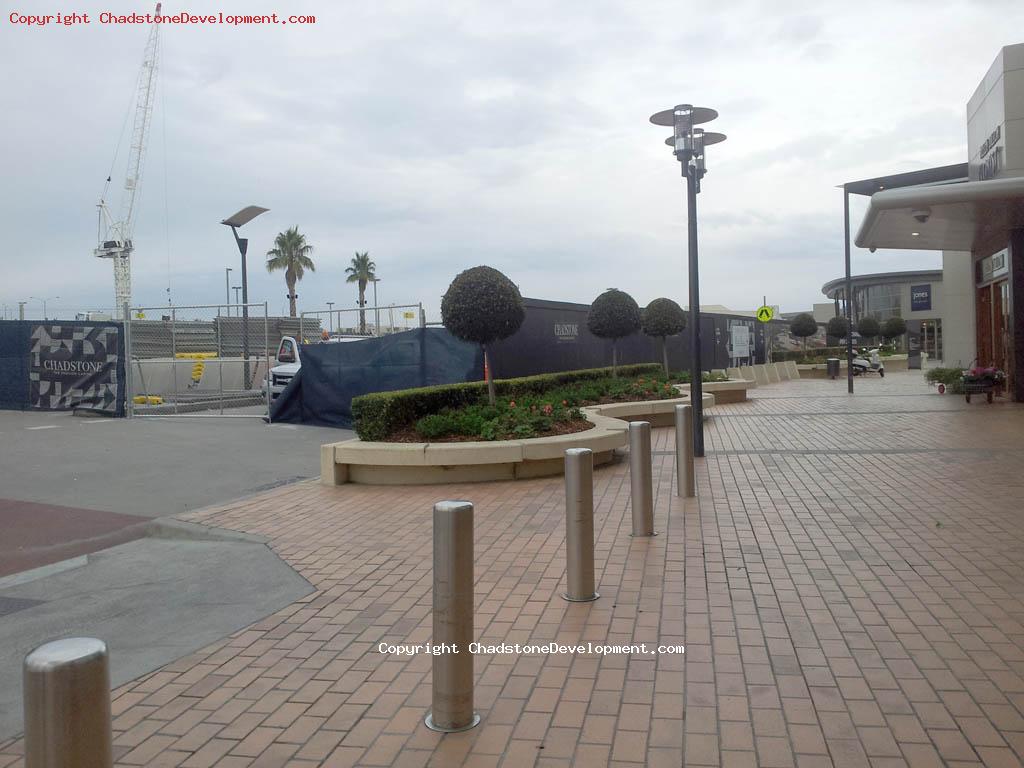 Confusing sign at Chadstone
Sun, 01 Feb 2015 12:00 am
By
Admin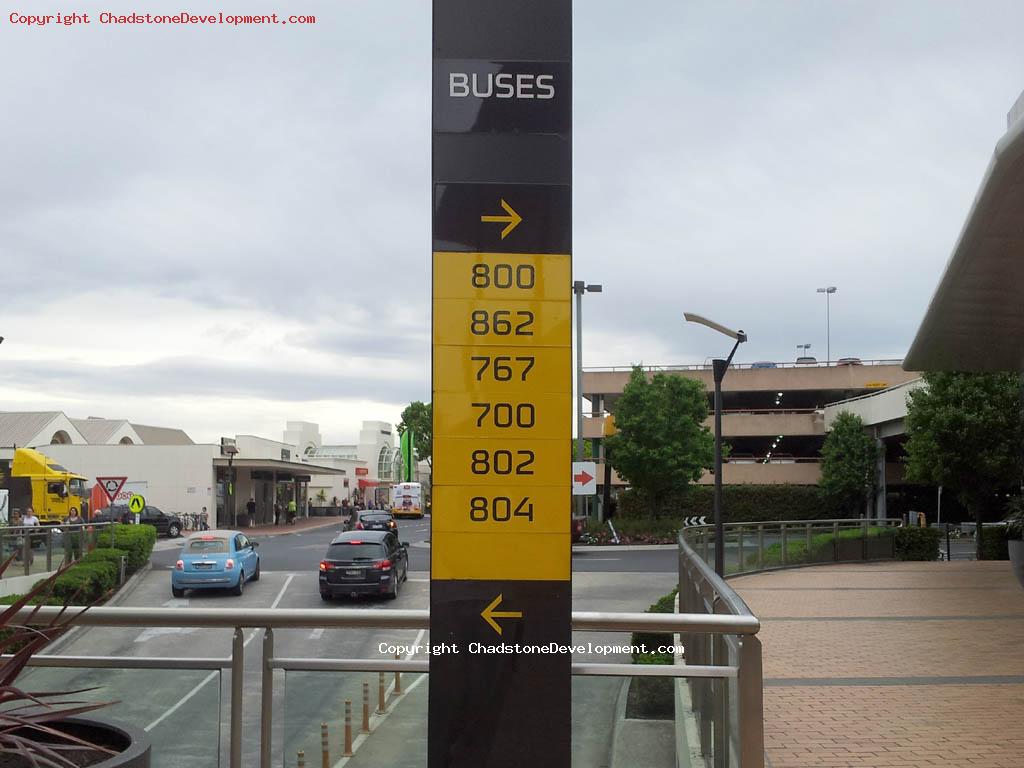 Is this the most confusing sign at Chadstone?
The sign is located next to Michell's Adventures. How is the sign interpreted? Are you more likely to find the 800 and 862 bus stops if you walk to the right, and the 802, 804 if you follow the path to the left? And what about 767 and 700 bus stops - which way do you turn?
The sign has been in this state for at least the past 12 months, and no remedial action has been taken to bring more clarity to commuters. The fix should be very simple - group the bus stops into either the left or right hand side.
Chadstone Open Australia Day 2015
Fri, 23 Jan 2015 08:14 pm
By
Admin
Chadstone Shopping Centre will be open on the Australia Day public holiday (26 January 2015) from 10am until 6pm.
---