Welcome to the Chadstone Development Discussion Forums, the place for Chadstone residents to discuss and share photos, opinions and comments regarding the expansion of Chadstone Shopping Centre and the redevelopment of the Middle Road area connecting Warrigal Road to the Centre. Chadstone, "Chaddy", is a shopping centre located in Victoria, Australia.
Discuss anything related to the Chadstone roadworks, new carparks, noise, dust, traffic, etc. We also have the
largest collection of photographs
taken during the various stages of construction and new redevelopment of Chadstone Shopping Centre and surrounding roads.
---
This site is not affiliated with Chadstone Shopping Centre, Colonial First State Property Management or the Gandel Group (the Centre owner).
---
Latest Discussion Topics
---
There is no need to register for an account - you can post anonymously if you wish. No personal information is collected. However if you wish to maintain an online profile, edit your recent posts, and have no restrictions on posting in the forums, you can
register
for an account.
---
About the official Chadstone Shopping Centre Updates
All images of the Chadstone Development Update (Project News) newsletters have been reproduced here as a courtesy to our readers. They are not in any way intended to infringe on copyright. The reproduction of such articles as part of a imformative site consitutes to fair use. The articles here are nonetheless in the public domain, as they have been mass-distributed to many residents.
---
Featured images




---
Latest images





News
Over 200,000 shoppers flowed through Chadstone in 34 hour trade
Thu, 24 Dec 2015 12:00 am
By
Admin
The doors have closed at Chadstone Shopping Centre at 6pm after a marathon 34 hours of frenzied shopping, with around 200,000 people walking through the doors.
Centre Manager Tony Rafaniello says it was busy across the board. He said "I wouldn't say [it was] one particular item; we've got 500 stores so we go right across the spectrum."
"Everywhere was busy wherever there was technology, right through to fashion, toys. I wouldn't pick one particular item."
---
Chadstone Management: Custome Parking Comes First
Wed, 23 Dec 2015 12:00 am
By
Admin
Anthony Rafaniello revealed he parks off-site, along with other Centre staff. "Every customer comes first." He has therefore hired the parking spaces at Holmesglen TAFE for 10 days, covering the leadup to Christmas and also the Boxing day sales period. Staff use a shuttle bus (every 10 minutes) to travel to and from their cars. This strategy ensures customer parking is maximised.
Mr Rafaniello also recommended public transport as an option. "In August we opened a new bus interchange and we are now serviced by 14 bus lines, 9 of which start and stop at Chadstone".
"We've also opened up a new entry from Dandenong Road, with a new express ramp into the new carparking level"
Chadstone Shopping Christmas Hours 2015 - Xmas Extended Trading Hours
Sat, 28 Nov 2015 12:00 am
By
Admin
Below are the extended trading hours for the 2015 Christmas trading period, as released by Chadstone shopping Centre.
This year, the 34-hour Christmas trading period falls on Wednesday/Thursday. It starts at 8am Wednesday and ends at 6pm on Thursday.
Chadstone Opening Hours - Christmas 2015 timetable
Mon
Tues
Wed
Thur
Fri
Sat
Sun
5 Dec
9am-9pm
6
9am-7pm
7
9am-7pm
8
9am-7pm
9
9am-7pm
10
9am-9pm
11
9am-9pm
12
9am-9pm
13
9am-7pm
14
9am-9pm
15
9am-9pm
16
9am-9pm
17
9am-Midnight
18
9am-Midnight
19
9am-Midnight
20
9am-Midnight
21
8am-Midnight
22
8am-Midnight
23
34 Hour Trade
8am
24
34 Hour Trade
Christmas Eve
6pm
25
Closed
Christmas Day
26
7am-11pm
Boxing day
27
9am-9pm
28
9am-9pm
29
9am-9pm
30
9am-9pm
31
9am-6pm
1 Jan
10am-6pm
2 Jan
9am-6pm
3 Jan
10am-5pm
Source: trading hours on official Chadstone Shopping website
Note:
Not all shops and stores adhere to this special timetable. The timetable only applies to the Shopping Centre in general. Individual stores may have different trading hours.
Food Truck Park in full swing
Fri, 20 Nov 2015 12:00 am
By
Admin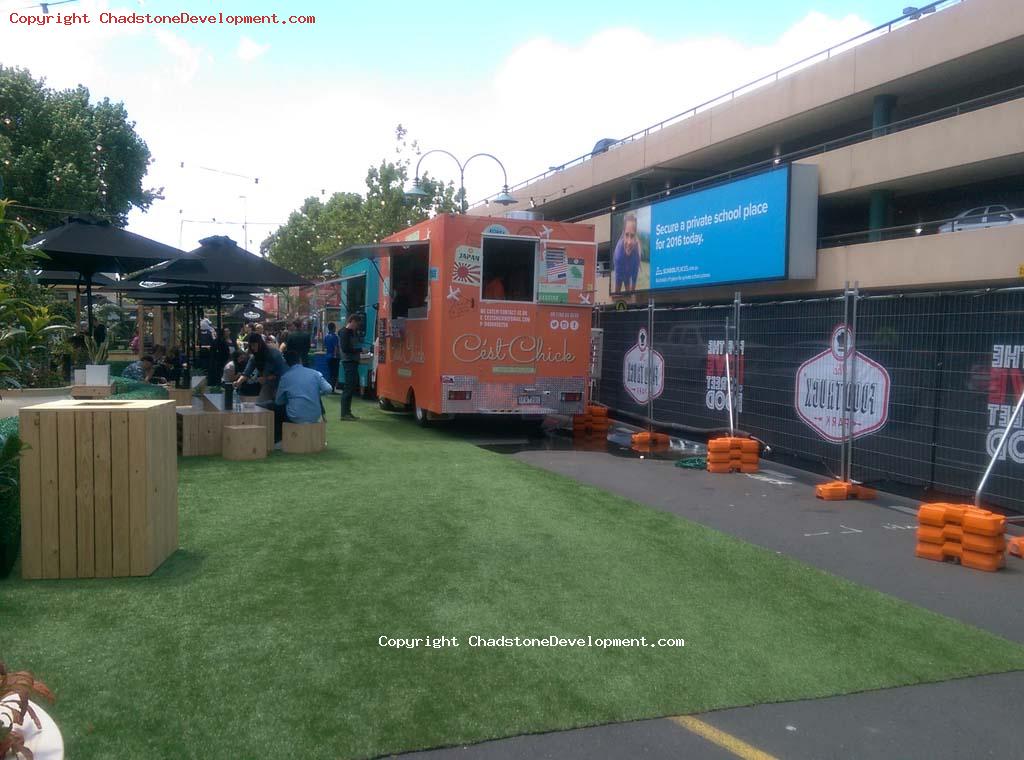 Chadstone 'Food Truck' park under construction
Fri, 06 Nov 2015 12:00 am
By
Admin
On the site of the former bus interchange (outside between the main entrance and the Coles carpark), Chadstone have started to transform the area into a new 'Food Truck Park'. This new concept will bring outdoor style dining to Chadstone, complimenting the indoor food courts.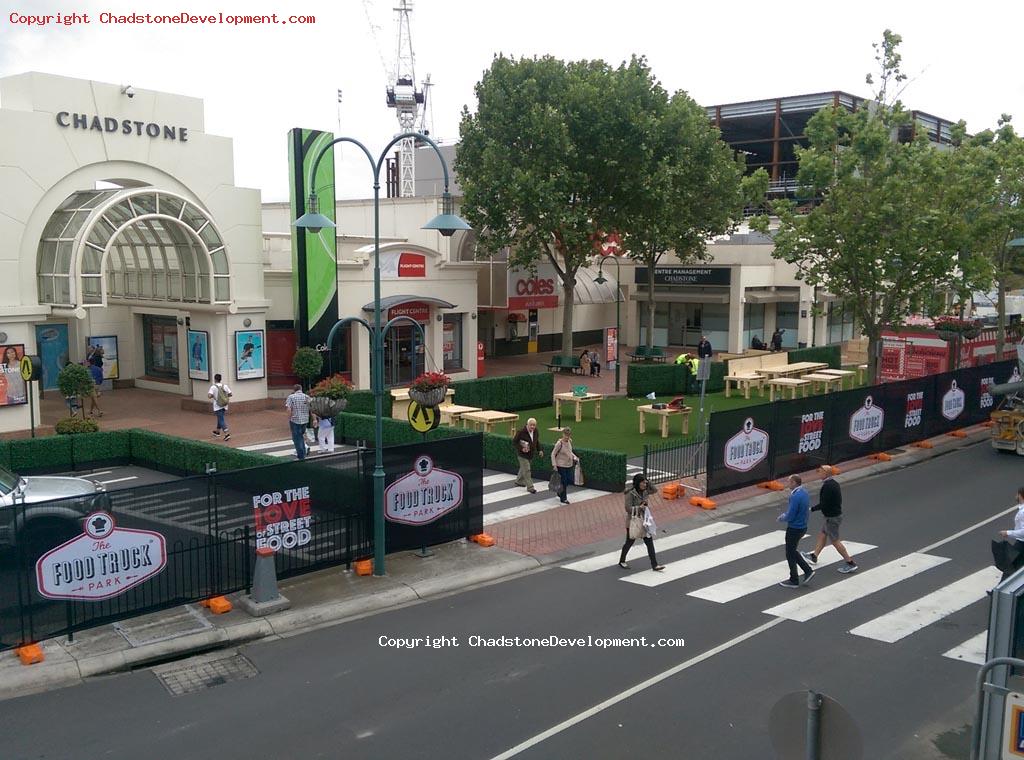 ---