News Archive
Yarra Valley Water relocates sewerage at Middle Road
Thu, 15 Feb 2007 11:56 pm
By
Admin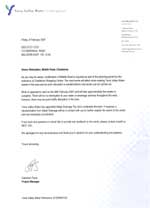 Some residents will have received a letter from Yarra Valley Water, detailing the sewer relocation.
The letter states the works will commence towards the end of February, will take 5 weeks and cause traffic disruption. See the letter for more information.
The sewer relocation was not disclosed in the official newsletters, which may indicate that the original planning may not have taken into account the need for sewerage works.
---